2022 Honda Civic Sedan in Grande Prairie, AB
Honda Civic Sedan at GP Honda
The 2022 Honda Civic Sedan is all-new for the year, maintaining the look and feel you've loved on this Honda highlight for years, but fine-tuning it inside and out to be more modern. The exterior is gorgeously streamlined, from headlights to taillights, while the interior features a sporty yet refined cockpit that invites an even more comfortable driving experience. Along with improved performance and tech and safety features, it's a comprehensive upgrade for the 2022 Civic across almost every section. Explore the all-new 2022 Honda Civic now, here at GP Honda and be one of the first to drive in Grande Prairie with this segment-defining new Civic model!
View the 2022 model trim landing pages here: LX, EX, Sport, Touring and Si.
Explore a breakdown of the trim differences here.
Interested in the former coupe style? Research the 2020 Honda Civic Coupe!
How about a hatchback? Research the 2022 Honda Civic Hatchback!
Explore other Honda cars here, like the 2021 Honda Accord, 2021 Honda Accord Hybrid and 2021 Honda Insight Hybrid!
Exterior Design & Features
Gorgeous Styling
Low-profile and with an aggressive profile, the Civic Sedan in 2021 represents all of modern style in a sport look that flows effortlessly from front to back.
LED Lights
LED daytime running lights come standard, with available LED headlights to clear any path. For when the weather truly turns sour in Mississauga, available LED fog lights will easily cut through the fog or haze
Sport Trim
Sporty on every trim, but arriving at its true potential is the Honda Civic Sedan in this specialized Sport trim, coming equipped with the following:
Dark 18-inch aluminum alloy wheels
Gloss black trim
Black-painted deck lid spoiler
Halogen fog lights
Centre-mounted chrome exhaust finisher
| Dimensions: | 2022 Honda Civic Sedan LX |
| --- | --- |
| Length (without license bracket) (mm) | 4,655 |
| Width (with mirrors) (mm) | 2,081 |
| Width (mirrors folded) (mm) | 1,900 |
| Height (mm) | 1,415 |
Interior Design & Features
All-New Styling
The 2022 Honda Civic balances the familiar with an all-new design. Meet the familiar front of the Civic and notice the biggest stylistic and functional changes as your view shifts. Its long, sleek front fascia is joined by a large air damper, keeping the sedan aggressive-looking while directing cool air into the engine. A low and wide design keeps you in control, and seamlessly able to cut through the wind.
LED Headlights
An accented character line across the Civic connects it from the front to the rear. The bold headlights lead the vehicle forward with its sleek yet strong style, leading back to the tail lights thanks to that defined side character line.
Assisted Open Trunk
It's one thing for a trunk to slightly open on one-touch operation, helping you when your hands are full of groceries, but sometimes it doesn't open enough, leaving the feature mute. Not in the 2022 Civic, this assisted opening trunk will open the trunk all the way, leaving your cargo space free to fill with ease.
| Dimensions: | 2022 Honda Civic Sedan LX |
| --- | --- |
| Headroom (front) (mm) | 998 |
| Headroom (rear) (mm) | 942 |
| Shoulder room (front) (mm) | 1,447 |
| Shoulder Room (rear) (mm) | 1,422 |
| Hip room (front) (mm) | 1,380 |
| Hip Room (rear) (mm) | 1,243 |
| Legroom (front) (mm) | 1,074 |
| Legroom (rear) (mm) | 950 |
| Passenger Volume (L) | 2,803 |
| Cargo Volume (L) | 419 |
Honda Civic Sedan Image Gallery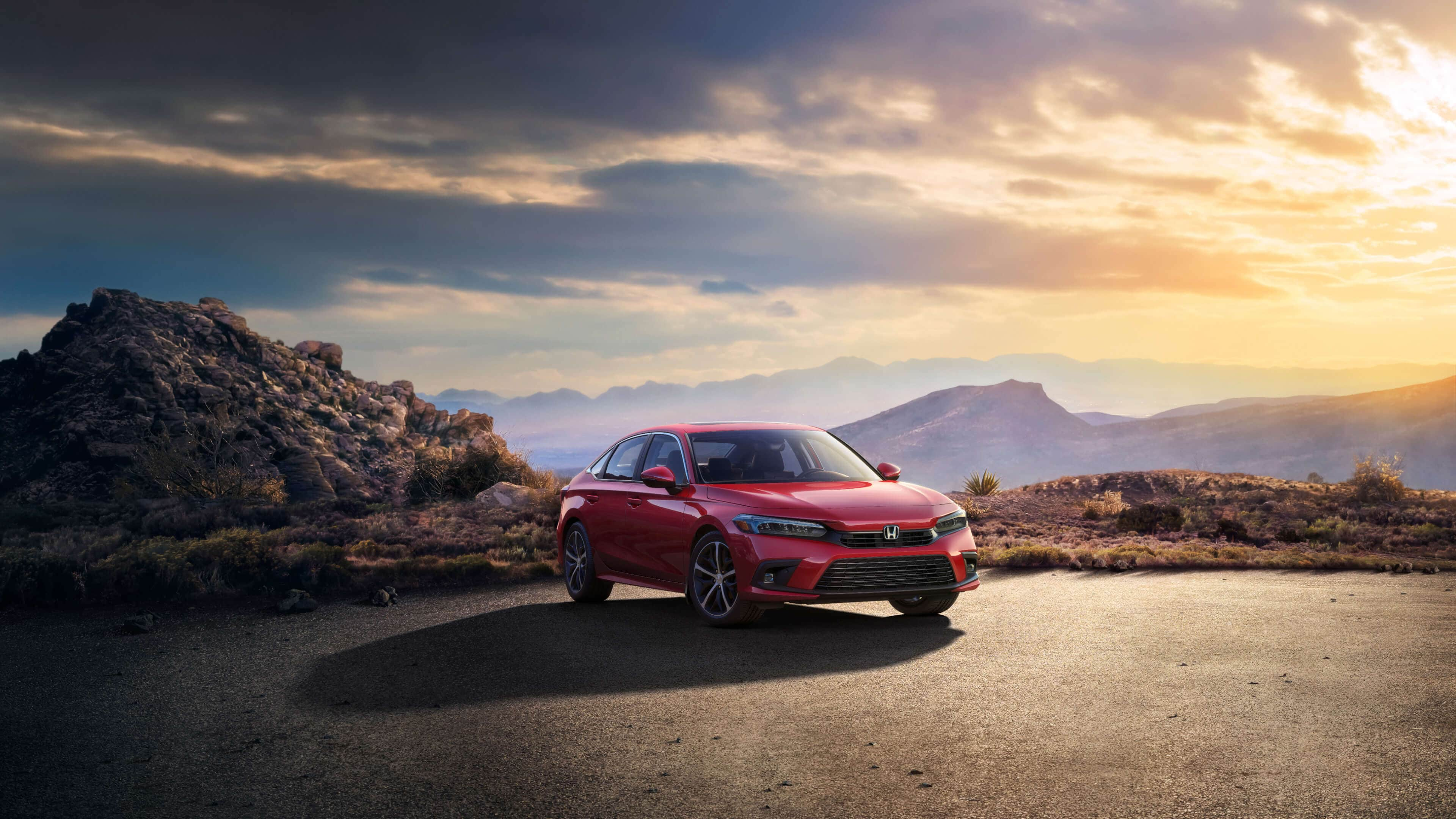 Technology
9-inch High-Res Touch Screen
The touch screen found inside the Civic has been updated to offer a more user-friendly experience, as well with updated navigation to get you to your destination in the quickest time possible. Apple CarPlay and Android Auto are standard to link your favourite device.
Proximity Key Entry/Pushbutton Start
Don't fumble around with your keys each time you want to get in and get going with your 2022 Civic. The ease of the proximity key entry and pushbutton start means all you have to do is grab the door handle, sit inside, press start and get on with your drive.
12-Speaker BOSE Audio System
A premium sound system is at your disposal on the top-level Touring trim. This 12-speaker audio system will fully envelope you in crisp acoustics, for music, podcasts, audiobooks and more.
Performance & Efficiency
Engines
Coming on the first three trim levels of the LX, EX and Sport is the 2.0L 4-cylinder engine with 158 horsepower and 138 lb-ft of torque. Kicking things up a notch is the 1.5L turbocharged 4-cylinder engine on the Touring trim, which sees a boost in 2022, with it now getting to 180 horsepower and 177 lb-ft of torque.
Transmission
Efficiency in the Civic Sedan is based around the continuously variable transmission, or CVT. The perfect go-between of the power and control that lays waiting for you inside your Civic.
ECON Drive
Three drive modes are available to match your surroundings: Normal, Sport and ECON. For those who want to enjoy an economical and efficient ride, just hit the ECON button and your vehicle will make your engine and non-essential systems run more efficiently, it's as easy as that.
| Specifications: | LX, EX, Sport | Touring |
| --- | --- | --- |
| Engine | 2.0L, 16-valve, Port Injection, DOHC, i-VTEC 4-cylinder | 1.5L, 16-valve, Direct Injection, DOHC, turbocharged 4-cylinder |
| Horsepower | 158 | 174 |
| Torque (lb-ft) | 138 | 162 |
| Transmission | CVT | CVT |
| CVT (city/highway/combined) (L/100 km) | 7.7 / 6.0 / 6.9 (LX, EX), 7.8 / 6.3 / 7.1 (Sport) | 7.6 / 6.1 / 6.9 |
Safety
Honda Sensing Technologies
The Honda Sensing Technologies are the cornerstone of not only Honda safety, but advanced forward-thinking tech that sets out to change the way you drive by being more convenient and secure. A new front camera has been added, better detecting everything from road lines to vehicles to pedestrians. The following features exist as top highlights across the assisted features:
Adaptive Cruise Control (with low speed follow)
Collision Mitigation Braking
Lane Keeping Assist
Traffic Jam Assist
Road Departure Mitigation
Blind Spot Information
Improved Air Bag Design
The all-new Civic protects you from every angle in the unforeseen event of a collision. Comprehensive air bag coverage includes protection across the rear side and knee impact. New for 2022 is improved air bag designs for the driver and passenger.
Front Bumper Design
Along with the front end's redesign for style with the fascia, and air intake for the engine out of the air damper, the bumper has also been upgraded for safe driving situations. This bumper design is built to absorb impact, aiming to reduce leg injuries in the unfortunate situation of a pedestrian collision.
Upgrades from the 2021 Honda Civic Sedan
It's almost easier to say what didn't change on the Civic Sedan from the 2021 edition than what actually did. Both the interior and exterior have been redesigned, but still within the realm of classic Civic styling that you've always loved, just more modern and refined. The top-level Touring engine sees increased horsepower and torque, further highlighting its sporty abilities. An improved navigation touchscreen invites terrific user-friendliness, while added safety features like an updated front camera and new bumper design round out the fact that Honda engineers have thought of practically everything when it comes to the all-new 2022 Civic.
2022 Civic Sedan Trims
For new and used Hondas for sale, GP Honda has all of your needs covered, especially when it comes to the legendary Civics. Not only do we have vehicles, but powersports options as well for you to explore. If there's anything more we can assist you with, whether it be about our Civic lineup or any of our other departments, please don't hesitate to let us know!
Learn more about some of our other most popular models: