2022 Arctic Cat Alterra 450 in Grande Prairie, AB
Arctic Cat Alterra 450 at GP Honda Powersports
Few ATVs deliver this level of performance at this great of value than the 2022 Arctic Cat Alterra 450. Powered through a 500 class engine with on-the-fly 2WD/4WD and a towing capacity of 1,050 lbs, and only starting at $7,899, this Alterra 450 is an easy choice for quad enthusiasts. Follow along with us here at GP Honda Powersports as we take an in-depth look at this Single Rider Arctic Cat Alterra, fit with an abundance of performance and capability features to make work or play that much easier.
Explore the others in the Arctic Cat Alterra lineup: Alterra 90, Alterra 300, Alterra 600, Alterra TRV 700
Design & Features
Front & Rear Steel Racks
Haul a combined 225 lbs of gear on both the front & rear steel racks combined. That breaks down into a 75-lb front rack capacity, and a 150-lb rear rack capacity. Strap down your gear and let the heavy duty racks keep it secure, even on the bumpiest of trails.
10-inch Ground Clearance
A generous 10-inch ground clearance means you can take on roads less traveled with confidence knowing you'll be able to clear obstacles ahead.
Exterior Colour Options
Two colour options are available for your Alterra 450, either Coyote Tan or Smoke Screen. Both colour choices provide an eye-popping accent to the dynamic design and features of the ATV.
60th Anniversary Badging
Celebrate 60 years of Arctic Cat with this special bading on the Alterra 450. This commemorative badge honours Arctic Cat's legacy of producing high-performing powersports vehicles since 1962, and continuing so into the future.
| Dimensions: | 2022 Arctic Cat Alterra 450 |
| --- | --- |
| Length (in/cm) | 83.9 / 213 |
| Width (in/cm) | 44 / 111.8 |
| Height (in/cm) | 46.9 / 119 |
| Weight (lb/kg) | 613 / 278 |
| Wheelbase (in/cm) | 47.7 / 121 |
| Ground Clearance (in/cm) | 10.5 / 26.5 |
| Total Capacity (lbs/kg) | 440 / 199.5 |
| Front Rack (lbs/kg) | 75 / 34 |
| Rear Rack (lbs/kg) | 150 / 68 |
Performance & Capability
500 Class Engine
A hearty dose of power is at your fingertips thanks to the Alterra 450's 443cc Single Cylinder, Liquid Cooled EFI engine. Not only is it powerful to take on any terrain ahead, but stays efficient the entire way.
7-inch Suspension Travel
Take on bumps without feeling like you're being tossed around each time you go over a set of uneven terrain due to the Alterra 450's 7 inches of suspension travel.
On-The-Fly 2WD/4WD
Depending on your needs for the environment ahead, the Alterra 450 can easily switch between 2WD and 4WD. An on-the-fly CVT lets you simply toggle back and forth between each drive mode to accommodate trail in front of you.
Dual A-Arm Front & Rear Suspension
Helping out the suspension is the Dual A-arm system of it, which works to not only cut down on the effect of uneven travel, but also helps to improve steering so that you always remain in control.
Rear 2-inch Receiver Hitch
A rear 2-inch receiver hitch comes fitted on the Alterra 450, allowing for a simple hook-up and a quick transition into putting your Arctic Cat ATV to work hauling.
| Specifications: | 2022 Arctic Cat Alterra 450 |
| --- | --- |
| Engine Type | Liquid Cooled, Singler Cylinder |
| Displacement | 433cc |
| Drivetrain | CVT |
| Drive System | 2WD/4WD Manual Actuation |
Utility & Accessories
Digital Gauge
Keep all of your Alterra 450's important driving information right-at-hand thanks to the digital gauge that clearly displays all of these details.
Alpine Kit
Ensure your Alterra 450 is fit to take on winter to the best of its ability with the add-on Alpine Kit. This winter-ready kit includes:
Standard Plow Next Gen
VRX Winch Kit
Winch Mounting Kit
ATV 53-inch blade speed plow
Deluxe hand warmers
2022 Arctic Cat Alterra 450 Model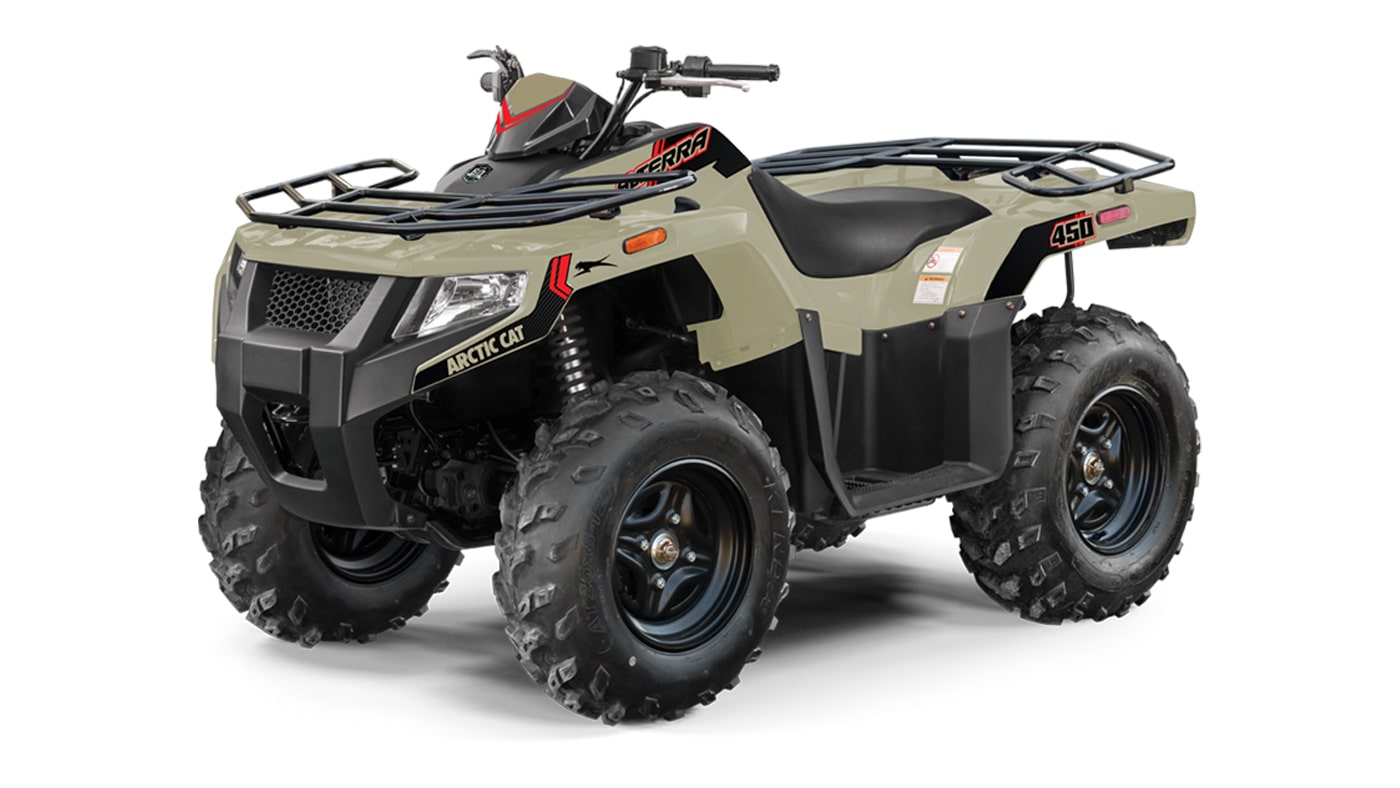 Alterra 450
Starting at

$7,899*
Details:
– 500 class engine
– 1,050 lbs towing capacity
– 10-inch ground clearance
– 75 lbs front rack, 150 lbs rear rack
View New Arctic Cat Alterra 450 Inventory
Our GP Honda dealership here in Grande Prairie is your local home for the best in Arctic Cat powersports vehicles. Not only do we sell ATVs, but side-by-sides and snowmobiles as well. Of course, being a Honda dealer means we sell the same in our valued Honda brand, too. Beyond these vehicles, we're here for your service, parts and accessory needs for your favourite toy. Click to contact us and bring home a new ATV, today.