2021 Talon 1000X in Grande Prairie, AB
Honda Talon 1000X at GP Honda Powersports
The sportiest, adventure-ready side-by-side can be yours from us at GP Honda Powersports, the 2021 Honda Talon 1000X. This truly dynamic Honda side-by-side is ready for fun, and is ready to do so at the height of performance, ride comfort, durability and safety. Get out and explore all that Grande Prairie has to offer, across our enviable Alberta trails, with the 2021 Honda Talon 1000X. Come visit us at GP Honda Powersports to shop this one-of-a-kind side-by-side, along with top tier service, parts and gear departments.
Take a look through our other Honda Side-by-Side models: 2022 Honda Pioneer 520, 2022 Honda Pioneer 700, 2022 Honda Pioneer 1000
Design & Features
Sport Style
If you're a Honda enthusiast and the design of the Talon looks familiar to you, that's because it takes some style inspiration from the CRF Honda dirt bike line. That is to say it demonstrates a flowing body complete with a fully-painted exterior that always makes known its performance potential. Its LED headlights highlight the front, with low and high beam functionality for the best visibility at night.
Safe Design
Hard doors and window netting makes the Talon 1000X perfectly primed for sport driving, all the while keeping the occupants inside safe. If you don't like the current look of the netting, you can always raise or lower it thanks to its one-hand operation.
Seat Comfort & Safety
Deep bucket seats both cradle the onboard passengers in security but also in comfort thanks to their soft, thick foam. Over-the-shoulder seatbelts fit over each rider comfortably and securely, and have the ability for a 4-point harness system. The driver seat features an automotive grade adjuster, so you can adjust to the perfect position, while passenger grab handles will make any rider feel more safe on even the rockiest of terrain.
Storage Space
If you have cargo that needs to be carried, bring it along all thanks to the rear cargo area that graciously takes on your needed gear. Pack up to 136 kg (300 lbs) of cargo, perfectly crafted to take on the likes of any kind of loads, like a full-size cooler, tools and more.
| Dimensions: | 2021 Honda Talon 1000X |
| --- | --- |
| Length (mm/in) | 3,147 / 123.9 |
| Width (mm/in) | 1,625 / 64.0 |
| Height (mm/in) | 1,913 / 75.3 |
| Ground Clearance (mm/in) | 323 / 12.7 |
| Wheelbase (mm/in) | 2,226 / 87.6 |
| Curb Weight (kg/lbs) | 679 / 1,497 |
| Cargo Capacity (kg/lbs) | 136 / 300 |
Engine Performance
High-Powered Engine
The 999 cc engine is advanced from years of serving the Pioneer 1000 and Africa Twin. This naturally-aspirated, parallel twin engine of the Talon has been specifically tuned for performance, all the while ensuring that the top tenets of Honda durability are always maintained.
Transmission
Matched to that performance-ready 999 cc engine is a fully-automatic 6-speed Dual-Clutch Transmission. This transmission will adjust depending on your driving style, thanks to throttle position RPM and brake input. High and low range sub-transmission features are present, a first for a side-by-side of this ilk, allowing you to pick between two traction settings.
Intelligent 4WD
The Talon is all about using its advanced tech to provide all riders with a more stable and safe ride, resulting in a fun experience for all. This side-by-side takes some cues from the automotive world, using systems like Brake Traction Control and Electronic Brakeforce Distribution. Attack any matter of terrain with confidence knowing Intelligent 4WD is at your back.
Hill Start Assist
Don't fret about stopping on a hill and then getting going again, thanks to Hill Start Assist. All it takes to enable this system is flipping the switch on the dash, adding brake pressure so you can conveniently switch your foot over to the gas.
| Specifications: | 2021 Honda Talon 1000X |
| --- | --- |
| Engine Type | Liquid-cooled longitudinally mounted naturally-aspirated parallel twin-cylinder |
| Displacement | 999 cc |
| Final Drive | Front / Rear Shaft |
Chassis & Suspension
Top Quality Suspension
A double A-arm front suspension and three-link trailing arm in the back represent the independent front and rear system. The FOX QS3 system of the Talon was designed specifically for this side-by-side, and is easy to adapt to your needs by setting its dial to a choice of 3 settings to attack your current terrain.
Tire Traction
Maxxis tires of 28 x 9-15 in the front and 28 x 11-15 in the rear are mounted on cast aluminum wheels, and primed to grip any surface with ease. Both Honda and Maxxis designers collaborated to get this traction grip and performance just right on the Talon.
Frame Construction
The frame of the Talon wasn't built as many pieces put together, no, its frame was built as one piece to ensure maximum durability and strength. A two-step process ensured this frame is as strong as cold be, first being dipped in an electrostatic application, then powder coated. This ensures that corrosion and chipping is prevented as best as possible, a necessity when tackling rough trails.
One-Piece Roof
Travel in the rain and know you'll be protected from the elements. The specifically designed one-piece roof features a water gutter system that channels any collected water away from the cabin and riders. Roof air vents were created as such so you can haul the Talon either forwards or backwards on a trailer and enjoy a streamlined and aerodynamic haul.
2021 Honda Talon 1000X Model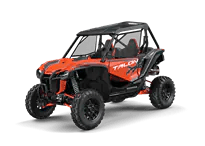 Talon 1000X
Starting at

$27,999*
Details:
Highlighted features:
999c cc high-performance engine
Fully-automatic 6-speed Dual-Clutch transmission
Intelligent 4WD
Hill Start Assist
View Side-by-Side Inventory
Side-by-side adventuring doesn't get much more fun than this, so stand out on the trail and do so in a 2021 Honda Talon 1000x. GP Honda Powersports is your one-stop dealership for any of your powersports needs, including ATVs, motorcycles and more, and from sales to service and gear. Contact us, today, to bring home your latest toy.